Watching movies at home offers many benefits, and can be even more practical and fun than watching movies in the cinema. You can completely relax, sit back and enjoy while eating your favorite snacks. Many people think that cinemas offer a great atmosphere in terms of lighting, sound and image quality that cannot be achieved at home. But is that really the case? With the right gadgets you can achieve a phenomenal final result and start enjoying your home theater. Whether you have a separate cinema room at home or just want to complement your living room, these gadgets can completely transform the experience of watching movies at home with friends. Here are some of the best home theater gadgets for your money.
1. 65" Sony X900H 4K TV
When wanting to equip your home cinema it is a good idea to start from the basics such as a good, high quality TV that will provide you with high resolution and raise watching movies at home to a whole new level. One of our main recommendations is a 65 "Sony X900H 4K TV that provides such a good experience that you will never want to replace it.
To be clear, this TV is on the pricier side, but with good reason. 65 "Sony X900H 4K TV is far better than others that are in the same price range. Of course, if you are on a budget, you can find some cheaper alternatives, but if you are looking for an amazing value for your money, we definitely suggest you consider this one.
2. Roku Smart Soundbar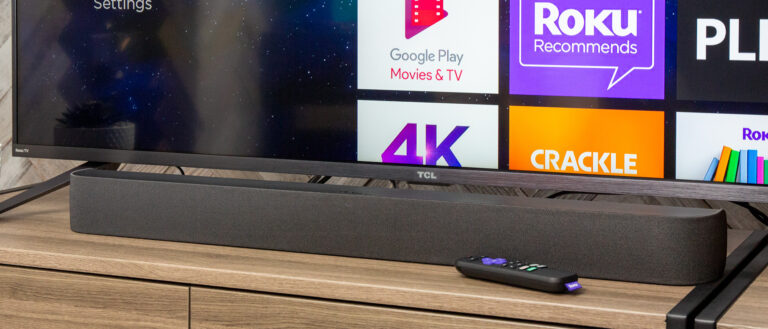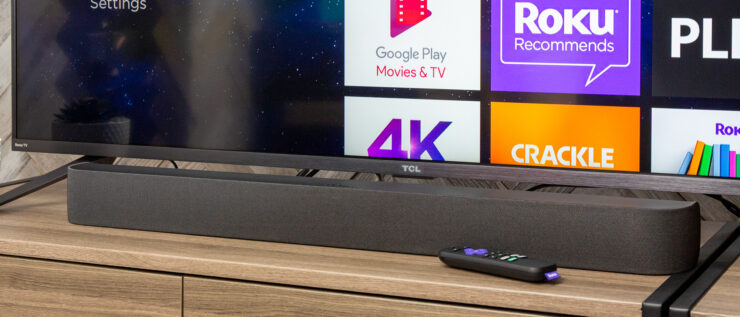 One of the main gadgets you want to consider in order to enhance your home theater experience is a quality soundbar that will not significantly lighten your wallet. One of them is the Roku Smart Soundbar, which costs just under 200$ and provides you with plenty of enjoyment while watching movies at home. We all know how important sound effects are for this whole experience, especially when watching dynamic action movies or horror movies. In these cases, the sound can make a significant difference.
This soundbar can be great to get you started if you're just starting to upgrade your home cinema, and the good thing is that you can upgrade it over time. There is also a Roku wireless subwoofer on offer, as well as wireless speakers that you can connect pretty much to any TV and further enhance the sound. Start small and then level up your sound gadgets according to your needs and desires.
3. Woojer jacket
When it comes to upgrading the sound experience, there is another gadget that will take you a step further. Woojer jacket is a gadget that allows the sound experience to become a body experience while watching movies, playing games or listening to music. What does this mean?
This jacket has the ability to pump low frequencies of sound into your body, so basically you can feel the movie or music on your skin. Woojer jacket is one of those accessories that will significantly improve your home cinema and be one of the reasons why your friends can't wait for every next movie night at your place. This is one of those gadgets that brings a lot of quality in exchange for money, so you definitely want to consider it if theater nights in your home are a regular thing.
If you are interested in learning more about the Woojer jacket you can do so here:

4. Hue White and Color Ambiance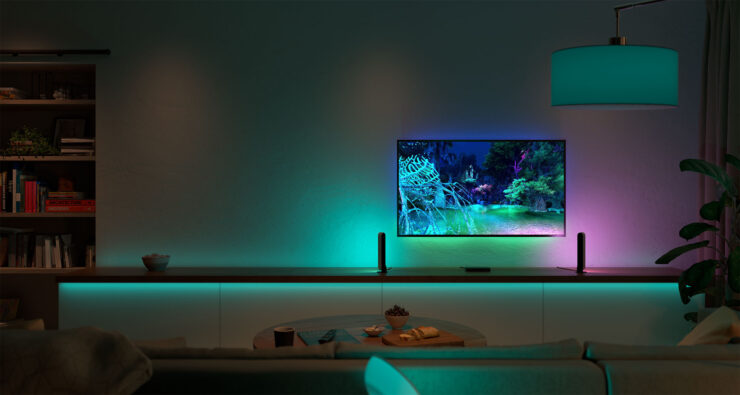 Don't forget another important factor when it comes to optimizing your home movie experience: lighting. One of the main reasons why people enjoy watching movies in the cinema so much is because the lighting is optimal and makes them fully focused on the movie. And when you are maximally concentrated, then the overall experience of watching a movie is much better. Think about your lighting optimization options at your home theater. Keep in mind that this does not have to be a big expense, you just need to take the time to find a good thing for your money.
One of the interesting and practical lighting gadgets for your home is Hue White and Color Ambiance. This Bluetooth Smart LED Bulb is adjustable, so you can fit it perfectly into the atmosphere you want to achieve. During the day you can use bright colors that will lift your mood and productivity, while while watching movies you can adjust some darker colors that do not burden the eyesight. With this light bulb you will be able to completely relax, focus on the movie and enjoy without any distractions.
5. Logitech Harmony Companion Multimedia Remote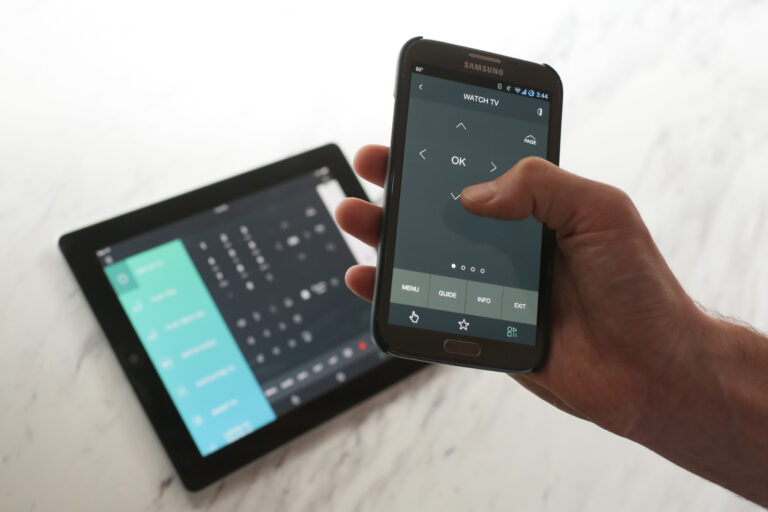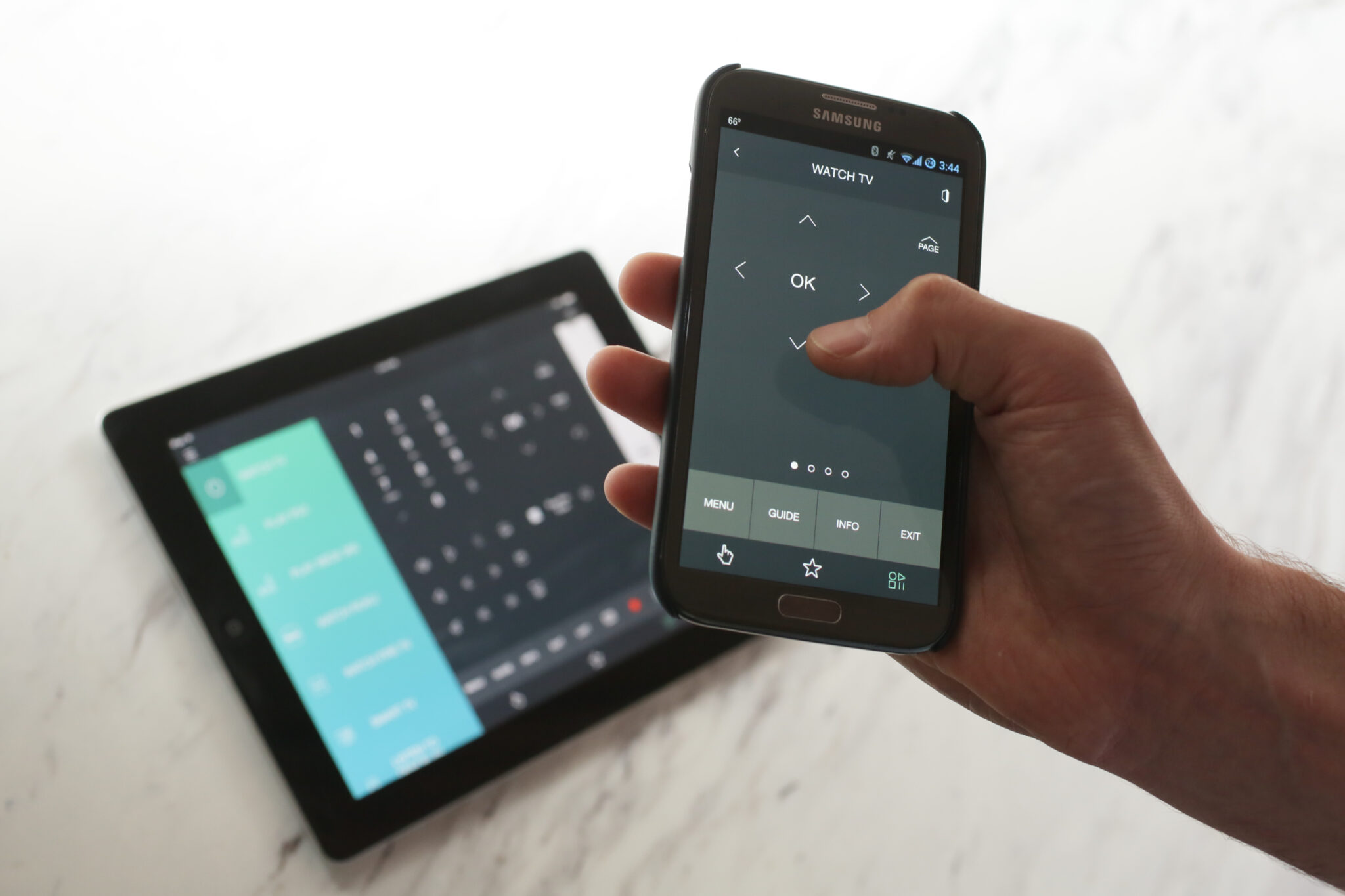 If you have already equipped your home theater with some basic things, it is time to go one step further. Do you still use several different remotes, each designed for one smart device? If you have already grabbed the wrong remote control for a device a million times by mistake, then you know how frustrating it is and it takes you precious time to watch movies. Still, there is a very simple solution: a multimedia remote control that works for a variety of smart devices. Imagine: instead of three or five remotes for TV, soundtrack, smart lock, air conditioner, you can now have one item that will control all these devices. And if you're looking for great value for money, we recommend the Logitech Harmony Companion Multimedia Remote.
This multimedia remote control costs around 150$, which may seem a lot, but the truth is that this gadget provides so many benefits. Now you no longer have to worry about losing the remote for a particular device, as well as wasting time looking for the right one. All functions are available in one device, which saves you time, which you can then use in a much better way.
Conclusion: Watching movies at home can be an even better and more fun experience than watching movies at the cinema. To achieve this, you need to think about some interesting gadgets. Some of the best home theater gadgets for your money are 65 "Sony X900H 4K TV, Roku Smart Soundbar, Woojer jacket, Hue White and Color Ambiance, and Logitech Harmony Companion Multimedia Remote. Check them out and consider which one you want to invest in next and raise your home theater to a higher level.