Christmas is fast approaching, and it is time for you to think about what your decorations will be. Knowing your theme this year is a good start in conceptualizing your yuletide decors. It is also important to consider your budget for the decorations. Will you be buying new stuff, or will you opt for re-using the things you have at home?
The latter option is more practical than the former, especially during this COVID-19 pandemic. So, which things at home can you repurpose for your Christmas decoration?
One popular decor material is glass jars. They can turn into many beautiful creations that are unique to your home.
Your glass jar decors don't have to be complex. Easy craft ideas are abundant. It is up to you to pick the perfect fit for your home. So, without further ado, let's get to know these glass jar craft ideas:
1. Christmas Pine Tree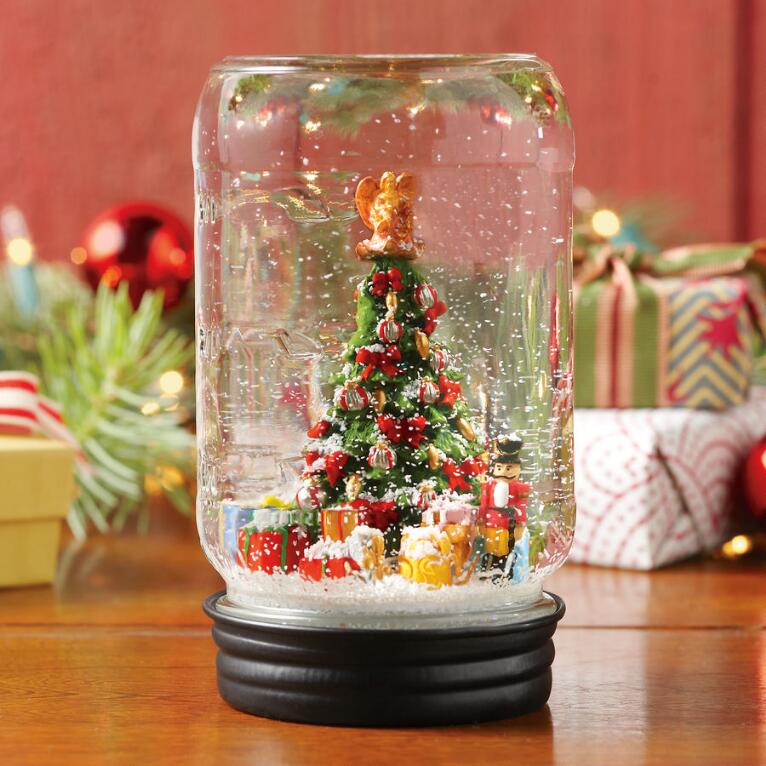 Buying expensive and huge Christmas trees is common. So, why not make it cheap, easy, and creative? You can use artificial pine branches and a glass jar as your main materials. To make this project, you will need the following:
Glass jar
Artificial pine branches (include some with cones)
White spray paint
Red bell
Jute string
Glitters (optional)
Instructions:
Begin by spray painting the glass jar. Allow it dry.
Wrap some jute string around the mouth of the jar to tie the bell.
Place the pine branches in the jar and arrange them based on how you want it.
You can sprinkle a generous amount of glitters over the mini Christmas tree.
2. Christmas Angel
A simple and transparent glass jar can turn into a beautiful Christmas angel! This craft idea is perfect for a Christmas home decor or a gift to a loved one. To create this unique Christmas angel, you will need the following:
Glass jar
White twine thread
Small gold jingle bell
Glitter tape
White candies
Printable jar tag (about Christmas or angels)
Printable angel wings
Glue gun
Instructions:
Fill the glass jar with candies.
Seal the jar with its lid and wrap the glitter tape around the lid.
Print out the tag and tie it using the twine thread around the mouth of the jar.
Print the angel wings and cut them in half.
Leave a 1×1 tab for each side where you cut them.
Stick each tab at the back of the jar using the glue gun. Position the wings based on how you want them.
3. Christmas Ornament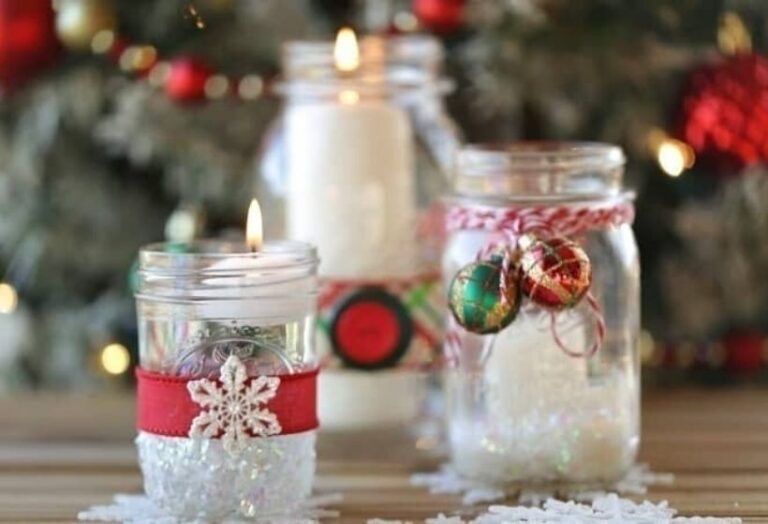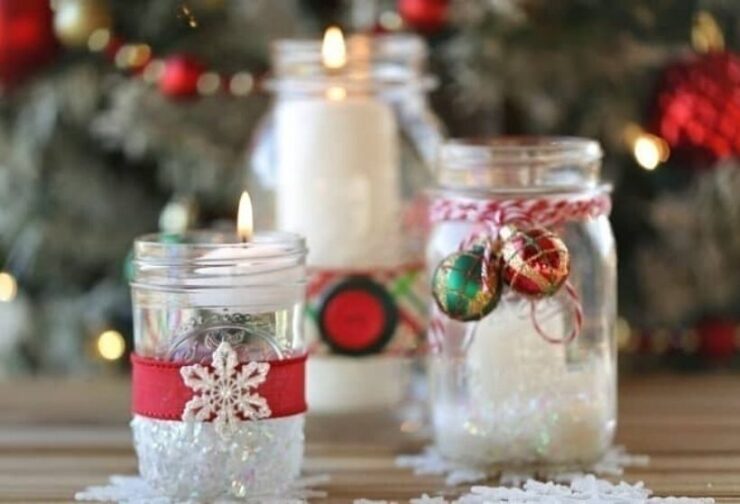 Include a glass jar ornament to your Christmas tree for a touch of something different! The ornament can add a lot of personality to your overall Christmas decor. What you need for this project are as follows:
Glass jar
White chalk spray paint
Brown ribbon
Glue gun
Accessories (optional)
Instructions:
Paint the jar with the chalk spray paint. Let it dry.
Use the ribbon to hang the jar. So, cut it based on your desired length.
Paste one tip of the ribbon inside the jar, in the mouth area, using the glue gun. Do the same with the other tip
at the opposite side of the mouth.
Let the glue dry.
You can paint the glass jar with the design you want. You can also fill the jar with tiny Christmas balls before you hang it.
4. Snowman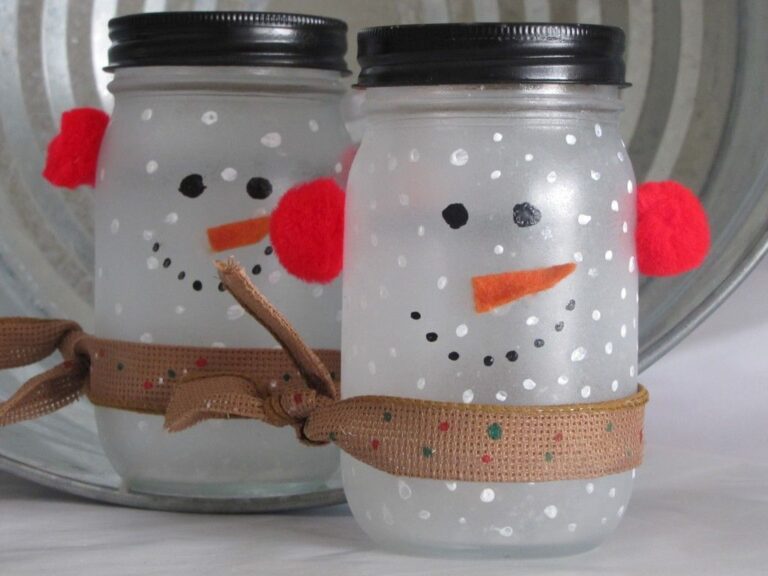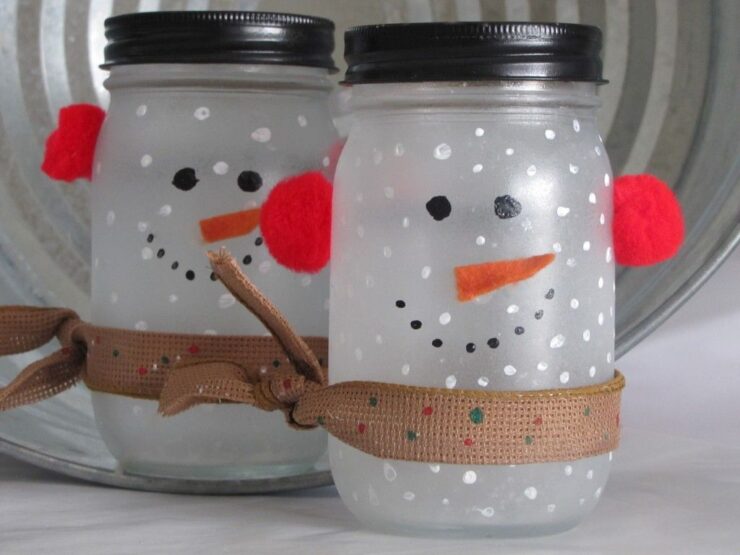 A snowman decor during Christmas adds personality to your home. You don't have to make it big though. You can always create a mini snowman for Christmas. To make this craft, you need these materials:
Glass jar
Clear plastic ornament
Artificial snow
Hot glue
Acrylic paint (black and orange)
Accessories (optional)
Cardboard
Instructions:
Fill the glass jar and ornament with some amount of artificial snow.
Stick the ornament's bottom onto the jar's mouth with a hot glue. Let the decor dry.
Hand paint the face of the snowman. Use black for the eyes and mouth and orange for the nose. Let the paint dry.
Cover the hole of the ornament with a small cardboard circle.
You can place a hat on the head and scarf around the neck of the snowman to add more style.
5. Floating Candle in a Jar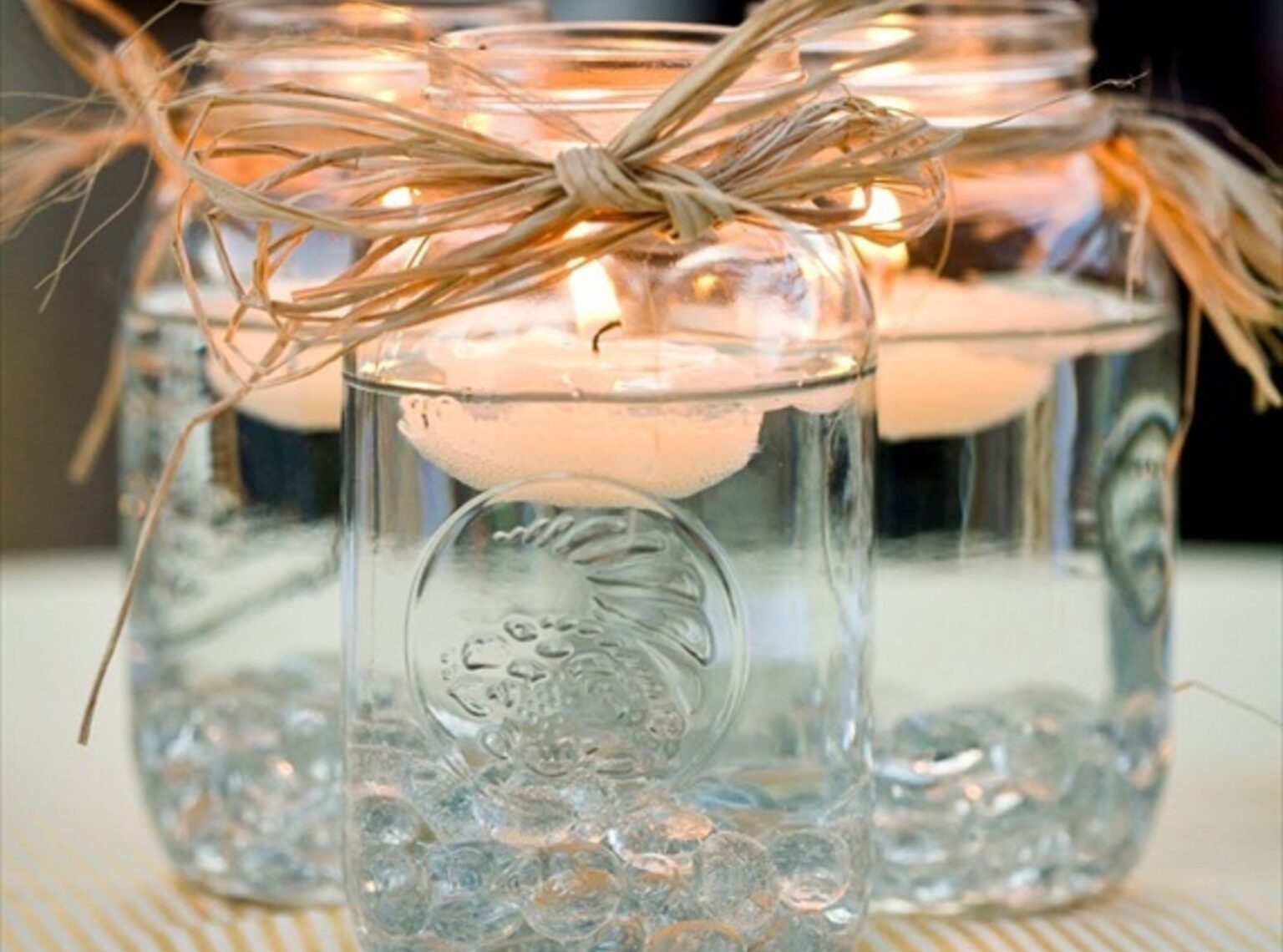 Having a candle decor for Christmas adds an intimate and dramatic effect to your home. You can place it as a centerpiece or line candles on the stairs. Ideally, Christmas candles are perfect anywhere in your home. To create the project, you will need these materials:
Glass jar
Water
Fresh cranberries
Rosemary springs
Tea light candle
Instructions:
Place rosemary springs in the jar depending on how many you want.
Pour water into the jar and make sure it is 3/4 full.
Add your desired number of cranberries into the jar.
Place the tea light candle on the cranberries.
Note: Don't leave lit candles unattended.
You can make many floating candles in a jar and spread them around your home. If you don't have enough glass jars for the number of candles you desire, purchase some online. Make sure to get glass jars from a trusted manufacturer like Roetell. They produce high-quality products that are worth the price. Roetell offer glass jars in different designs and sizes as well. So, if you are interested to know more about their products, visit roetell.com.
6. Holiday Flower Vase
Although candle decors are great centerpieces, flower vases are also stunning. They add color and beauty to your table. During Christmas, it is ideal to improve their designs to fit the celebration. You can make your flower vase luxurious this holiday. All you need are the following:
Glass jar
Gold spray paint
Gold glitters
Glue
Flowers of choice
Instructions:
Spray paint the jar properly and leave it to dry.
Apply glue to the bottom part of the jar.
Sprinkle glitters on the glue and leave them to dry.
Place the flowers of your choice in the jar. That's it!
Conclusion
These Christmas decor ideas using glass jars are a perfect addition to your beautification this coming holiday. They are easy and quick to make even for beginners. There are still many decor ideas you can try for Christmas, but you can start with the list above. So, choose which of these Christmas decor ideas you want to try first and start making working on them now!