Nowadays, we are witnesses of many subscription streaming services taking over the media consumption world. Therefore, many people are deciding to cut their cable, satellite or IPTV subscriptions because they have no need for it. That way, a lot of money is saved annually because TV subscriptions are not that cheap. However, regardless of what shows your streaming service provides you with, sometimes you do want to watch the news or sports that your local TV stations broadcast. That is where the digital antennas come in play.
The days of old-school, analogue antennas are gone. There's no need for you to climb up on the roof and search for the best signal. Modern, digital antennas are more than enough for you to receive a digital, high definition signal from your local station.
Before you go out and buy an antenna, there are few things to keep in mind. First, of all, you should check which channels are available in your area. Check out and see how many are there in your vicinity, where are they positioned and how far away are they. There are several different types of digital antennas. Some are outdoors, some are indoors, some are multi-directional and some need to be pointing towards a certain direction. All of these should be considered when you're shopping for an antenna because it'll determine how many and which channels can you have.
The main difference is in range and set-up. Multidirectional ones are the most common ones and they are both indoor and outdoor compatible. They're flat, usually reminiscent of a sheet of paper. They require little, to no knowledge as to where the TV stations are or where the signal is coming from. All you need to do is mount them onto a wall or a window and you're good to go. The only drawback of these is their range. Because they are able to pick up signals from all around, regardless of the position, their range is kind of limited.
As far as the directional antennas go, they are more similar to the older, analogue antennas in a way where they need to point in the right direction for it to receive a proper signal. Therefore, you should to a little bit of research on the position of the TV stations so you don't wander aimlessly when setting it up. Aside from making sure they're mounted properly, they also tend to be placed outside. It's not a necessity, but their performance is significantly crippled when placed inside because of the walls which block the signals. On the other hand, their range is far greater than of multi-directional ones.
Even though setting up a digital antenna is a fairly simple process, you might not want to deal with the hassle of mounting it or researching positions of the local TV stations. If that's the case, then it'd be the best to hire a professional crew like aerialandsatelliteexpress and have them do it. However, installing an antenna would be pretty impossible without the antenna itself, so let's check out some of the best ones out there.
1. ClearStream Eclipse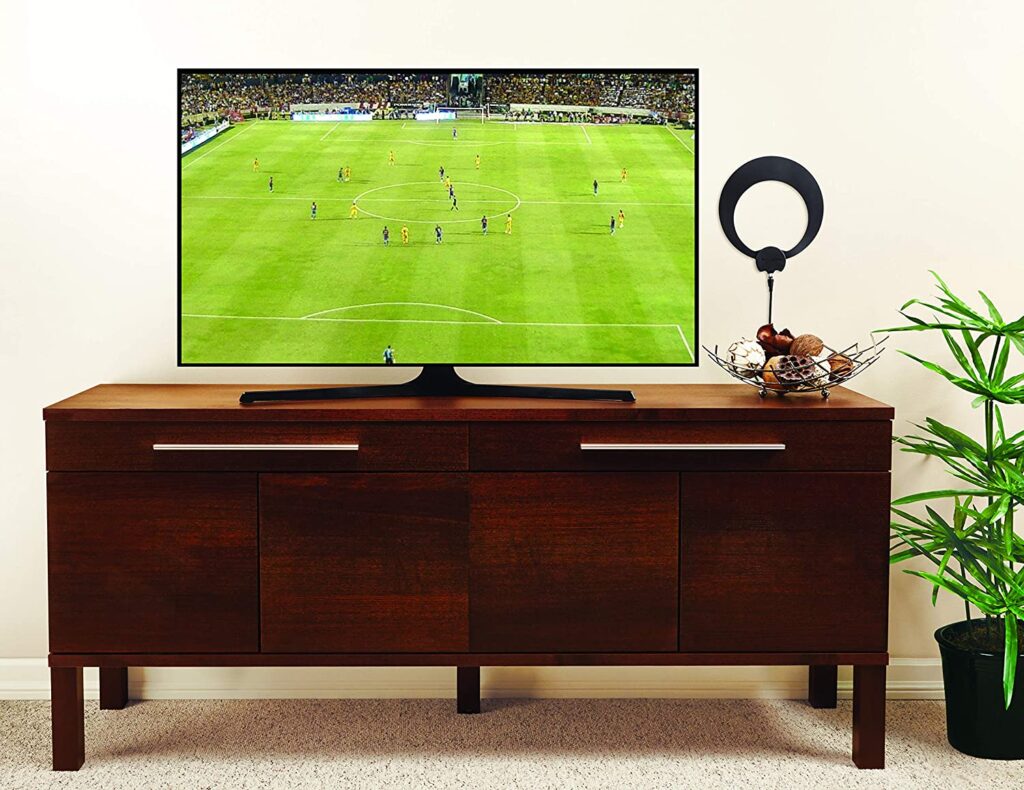 The ClearStream Eclipse is a top of the line, discreet and powerful multi-directional HD antenna with the range around 30 miles. If you don't mind spending a little more on a gadget like this, this is definitely a good fit for you. It'll cost you between 40 and 50 dollars depending on where you get it, but if you compare this to a cable bill, it's basically free. It's really easy to mount because it's adhesive from both sides, which means no tape, no holes drilled in the wall or anything of sorts – you can just stick it to the wall. This cool, circular design can even look like a décor piece once it's taped on your wall. It comes in two colours at once, black and white, so you can match it with the rest of your room. However, if that's not enough for you, you can actually paint over it without damaging it and make it blend with the wall.
2. ClearStream Eclipse 2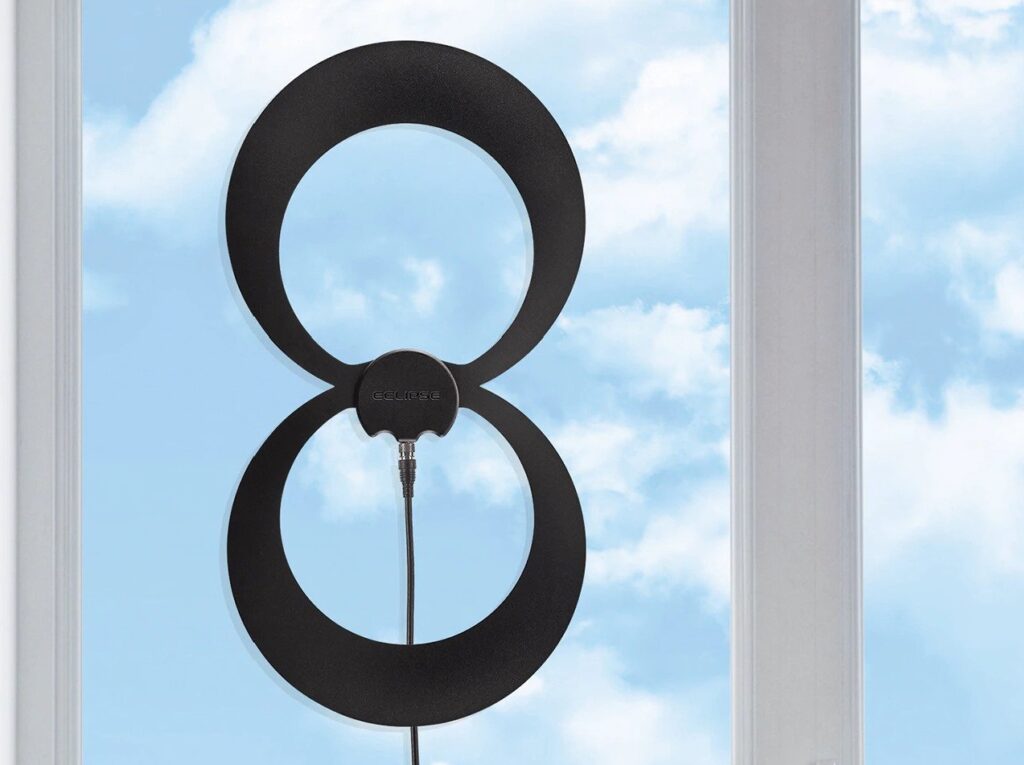 This would be the bigger, stronger version of the previous model – or amplified antenna as known in the industry. Naturally, along with the performance buff (almost double the range), comes the price buff, so this antenna will set you back about $70. However, what you get for that money is almost double the range of the regular Eclipse. Another change comes in the form of the design. Eclipse 2 comes in figure-8 or infinity shape – however you want to call it. Once again, it's adhesive and different coloured on both sides and as the previous model, it can be safely painted over if that's something that's important to you.
3. Antop HD Smart Bar
This one will certainly not fit in with your walls as the Eclipse would, but it'll offer you a lot of power. With the range of over 80 miles and a price point of $120, it is certainly not for everyone. If you live in a secluded area or just far away from TV stations, you might need to opt-out for this one. As far as design goes, it looks like a regular soundbar, so it's going to be easy to hide. It comes with an FM tuner, 4G signal filter and double TV set-up so it justifies the price.
4. Winegard Elite 7550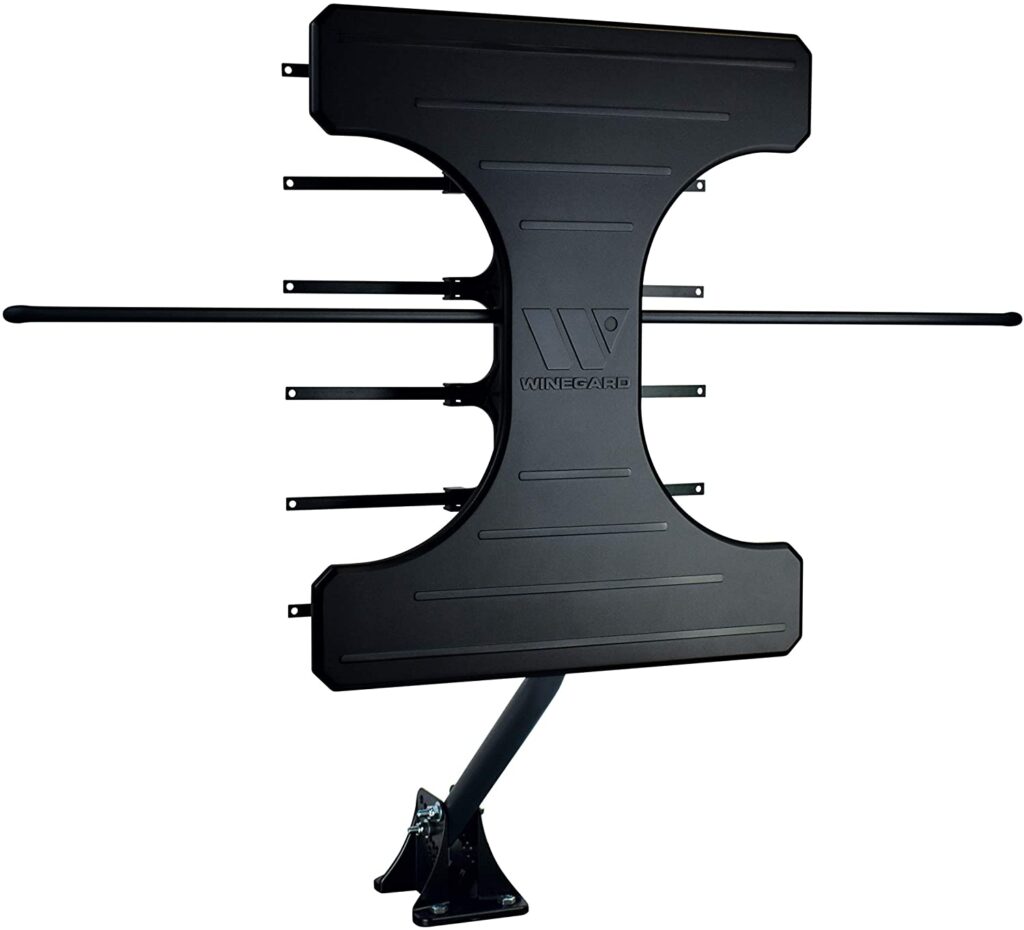 For our outdoor pick, we have the Winegard Elite 7550. It's arguably the best outside antenna with the range of 70 miles, 1080p reception and ability to receive over 70 channels. Since it is mounted outside design should play a much of a factor here, but it's well built and certainly not an eyesore like a satellite dish would be. At about $100 it's a reasonable option for an outside model.
5. Mohu ReLeaf HDTV
For our final pick, we have the Mohu ReLeaf antenna. This model is has a range of 30 miles, 1080p reception, simple unobtrusive design and it can receive over 60 channels – which is more than most of the amplified antennas out there. The best thing about it? It'll set you back less than $35 on Amazon. Additionally, it's made from recycled materials, so if you're someone who is eco-friendly and green-oriented this is the right fit for you. With all of these things said, this has to be our overall champion. It offers great performance for a fraction of the price of the cable bill and even some other digital antennas.
After all is said and done, it's up to you to decide which antenna fits your needs. Depending on whether you need range or variety of channels, you're going to end up with a different kind. Hopefully, our article has covered all of your needs and has helped you decide upon the best one for you.